Discover more from The Turtle Diaries
Went undercover in MAGA for a year, now I write about the right.
Over 3,000 subscribers
The Texas GOP Can't Get Enough of Nick Fuentes
It seems there are groypers everywhere, from the far-right Young Republican spinoff group to powerful consulting firms
In August I wrote about the seemingly inevitable splintering of the Young Republican National Federation (YRNF). Things were dire enough that the Texas Young Republican Federation (TYRF), the official statewide federation of the YRNF, ended their relationship with the Republican Party of Texas (RPT) — largely due to their long-strained relationship with Texas GOP chairman Matt Rinaldi. Dallas Young Republicans and Rockwall County YRs, both considered to be clubs that are "based," parted ways with TYRF.
In the time since, a new statewide group has formed to compete with the Texas Young Republican Federation. The new organization has dubbed itself the Young Republicans of Texas, and its chapters have expanded to include Walker County, Gillespie County, Bryan-College Station, Rural Texas, and Gulf Coast. Young Republicans of Texas has also partnered itself with the Republican Party of Texas — something Matt Rinaldi seemed to have quite the hand in.
There are a lot of problems with the new group, but we're going to start with Walker County.
Led by Noah Coffee, Walker County initially applied to be part of Texas Young Republican Federation, but was denied when TYRF noticed Rylie Rae Ferguson on the roster. Here is a peak at Ferguson's social media: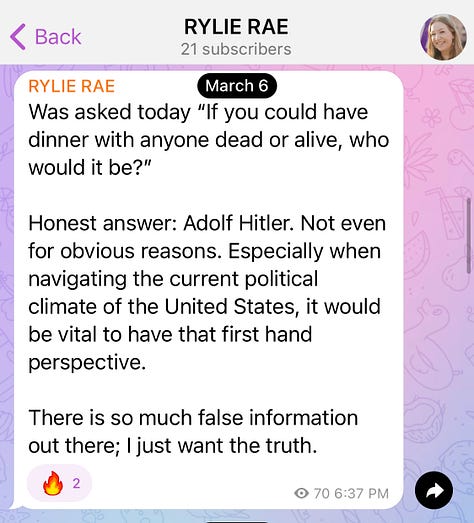 At the time, TYRF had no reason to be wary of Coffee, so they told him to remove Ferguson from the roster and reapply to be chartered. Coffee ultimately decided to affiliate with the Young Republicans of Texas, instead — likely because he didn't want to remove Ferguson.
Here are some of the likes that could be found on Coffee's Twitter account before he made it private:
In many ways, partnering with the Young Republicans of Texas turned out to be a much better deal for Coffee. Not only do they not appear to vet new members, but they made Coffee their state level secretary.
Before moving on to Young Republicans of Texas, Coffee had suggested he didn't know about Ferguson's beliefs. As it turns out, this was not true. Earlier this year, white nationalist Nick Fuentes held an event across the street from CPAC. I attended, but (obviously) wasn't allowed in. The line to get into the event extended outside and down the block, and I spent my time with the other journalists, hanging out at the front of the line.
That's me in the yellow circle…but who is that in the red?
Looks like it is Noah Coffee and Rylie Rae Ferguson!
Ferguson also shared her experience on Telegram, describing Fuentes as her "political idol":
Leaders at Young Republicans of Texas mostly blocked me when I tried to ask for comment, but I was finally met with a boilerplate answer:
"We categorically condemn anti-semitism and bigotry in any form and have made our support for Israeli self-determination unambiguously clear. We remain committed to upholding the platform of the Republican Party of Texas and are excited about the opportunity to rebuild party infrastructure and engage a new generation of Young Republicans."
Walker County isn't the only problematic chapter. In mid September, the Dallas YRs co-hosted an event with the True Texas Project. Speakers included Dallas YR President Chad Cohen and Christian fascist (and former friend of Nick Fuentes) John Doyle. Chris Betts, the outreach coordinator for True Texas Project, was the emcee.
It's often difficult to expel members within YRNF, but Betts was previously kicked out of the Texas Young Republican Federation. Betts is currently dealing with legal issues; his ex-girlfriend has filed a restraining order against him for stalking and harassment. Chris Betts is also the political director for Republicans for National Renewal, a group whose members are featured in my story about my year undercover in the far right. He is also involved in the new Young Republicans of Texas group. Though their members have failed to clarify the extent of his involvement, he was present at a Dallas YR event featuring GOP chair Matt Rinaldi on September 19th. During Cohen's introductory speech, Betts was specifically named as someone Cohen was glad to have there.
Konner Earnest is the President of the spinoff group's Parker County YR chapter. Earnest also runs the social media for the far-right New Future Caucus. Here are some screenshots from Earnest's social media: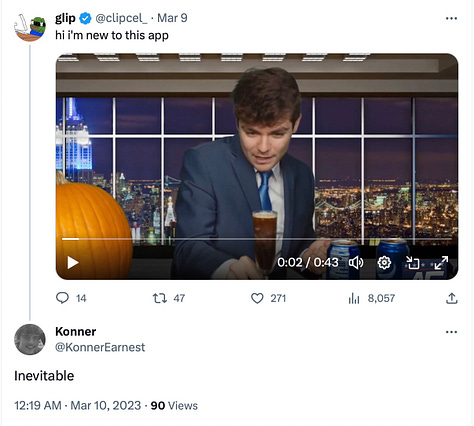 Earnest's replies include suggesting he will get Nick Fuentes to autograph a Mother Jones story on Fuentes, support for turning the GOP into a Christian nationalist party, defending "Groypers" (the term used for fans of Fuentes), and liking a tweet praising a Nazi version of Donald Duck.
Konner Earnest also appears to be involved with the Texas branch of the European American Community, a group I have previously detailed. Here is a sample of EAC's social media:
Konner Earnest can be seen in the above photo wearing a red shirt. The man giving the thumbs up is Republicans for National Renewal's executive director, Mark Ivanyo.
Earnest also appears to have some affiliation with Texans for Strong Borders (Ivanyo/Republicans for National Renewal, Rinaldi, and Chad Cohen recently co-signed a letter from Texans for Strong Borders to Abbott, asking for a special session on border security).
Last week, Texans for Strong Borders made national news when their president Chris Russo was spotted chauffeuring Nick Fuentes around. Russo drove Fuentes to the Pale Horse Strategies office, where Fuentes participated in a six hour meeting. Pale Horse Strategies is a consulting group run by Jonathan Stickland, who seems to be omnipresent in far-right Texas politics.
Robert Downen of the Texas Tribune reported that, in addition to Fuentes, Matt Rinaldi was in the building during this time. Pale Horse Strategies employee Ella Maulding also attended the meeting (briefly appearing outside to make a social media video for Texans for Strong Borders).
Maulding is a big fan of Nick Fuentes, and has lost work with other conservative organizations for her public views. Last month, Maulding shared a photo to her Gab with white nationalist Jared Taylor, who organizes the American Renaissance conferences.
Shortly before posting this to Gab, Maulding posted a photo to Instagram with Lauren Witzke. In the photo with Witzke, Maulding is wearing the same dress and jewelry (perhaps coincidentally, Mark Ivanyo is Witzke's attorney).
Stickland recently started following a few Twitter accounts: Young Republicans of Texas, YRT's vice chairman, Chad Cohen, Noah Coffee, and Nick Fuentes, who uses "autumn groyper" as his display name on Twitter.
Fuentes, who only follows 132 accounts, has followed back Stickland, Texans for Strong Borders executive director Cary Cheshire, and the True Texas Project.
Lt. Gov Dan Patrick has said the entire Nick Fuentes thing was just a "serious blunder" and promised that Stickland's group would not have any more contact with Fuentes (earlier this year, Patrick received $3 million from one of Stickland's organizations).
But hey - all the Hitler stuff aside, congratulations to the three new chapters that joined the Young Republicans of Texas yesterday!
Follow me on Twitter, TikTok, Bluesky, Threads, or Instagram. All of my Substack posts are unlocked, but subscriptions or tips/coffee are always appreciated!
The Turtle Diaries is a reader-supported publication. To receive new posts and support my work, consider becoming a free or paid subscriber.